Details for foreign customers desiring PET medical checkups at our center
---
PET medical checkups will be conducted at Seirei Medical Checkup Center.
It is different facility from Seirei Hamamatsu General Hospital.

To Those Customers Living Abroad
Provide high accuracy general cancer screening to foreign customers using high performance medical instruments
---
Details for foreign customers desiring PET medical checkups at our center
In order to ensure that PET medical checkups for foreign customers are conducted safely and that they feel at ease, we ask the customer to contact us via a specialist coordinating company.
The company that our center has a business collaboration agreement with is Japan Medical & Health Tourism Center (JMHC). Persons in other countries desiring medical checkups in Japan should first consult with JMHC. We would appreciate your understanding and cooperation in this regard to ensure that medical checkups proceed smoothly. Also please accept that the details and costs of medical checkups conducted in Japan are exclusively for foreign customers.
Flow of medical checkups for foreign customers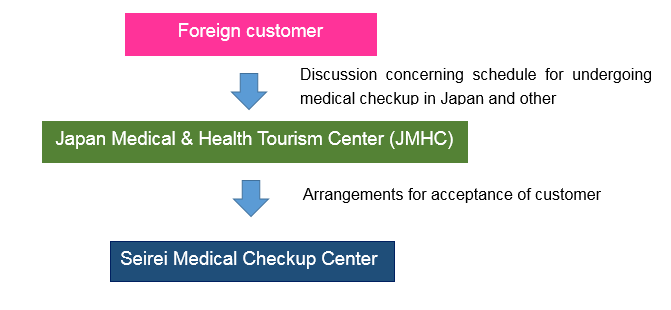 Details of medical checkup support for foreign customers
In order to ensure that foreign customers can feel at ease regarding medical checkups at our center arranged via JMHC, the following are
included in medical checkup fees.
PET medical checkup for foreign customer
Explanation on day prior to medical checkup
Interpreting service on day of medical checkup (English, Chinese)
Translation of checkup results (Mailed to stipulated address some time after checkup)
Note: Please contact JMHC regarding any unclear points concerning medical visas or other matters.
Japan Medical Health & Tourism Center (JMHC)
Details of medical checkups provided to foreign customers
The details of medical checkups provided to foreign customers are as follows:
Examination details
Medical Interview
General medical interview
Physical measurements
Height
Weight
Adbominal circumference
Standard weight
BMI
Obesity index
Body fat percentage
Eyesight
Physiological tests
Blood pressure measurement
Pulmonary function tests
FEY1%
Lung age
Funduscopy
Intraocular pressure
Audeiometry
Endoscopy
Upper gastrointestinal endoscopy(gastroscopy)
Ultrasonography
Abdominal ultrasonography
Carotid ultrasonography
Echocardiography
Biochemical tests
Fasting blood sugar(FBS)
AST(GOT)
ALT(GPT)
y-GT(y-GTP)
ALP
LD(LDH)
ZTT(Kunkel units)
Total bilirubin
Cholinesterase(Ch-E)
Total protein
Albumin
A/G ratio
Serum amylase
P-amylase
Total cholesterol
HDL cholesterol
LDL cholesterol
Triglycerides
Unic acid
Serum creatinine
Urea nitrogen
Calcium(Ca)
Examination details
Hematology
White blood cell count
Red blood cell count
Hemoglobin
Hematocrit
MCV
MCH
MCHC
Platelets
Hemogram
HbA1c
Blood typing(ABO,RH)
Serology
CRP
HBs antigen
HCV antibody
Stool analysis,urinalysis
Urine occult blood reaction
Urine PH
Urine protein
Urine sugar
Urobillinogen
Specific gravity
Urinary sediment
Fecal occult bood tesut(2-day method)
Coagulation/fibrinolysis test
Fibrinogen
Pepsinogen
pepsinogen
Prostate exam
PSA
Tumor markers
CEA
CA19-9
CA125
Electrocardiography
Helicobacter pylori antibody test
Resting ECG
Exercise ECG
Holter ECG

Arteriosclerosis exam(PWW,ABI)

MRI(Head,body)

Gynecology
Cervical exam
Transvaginal ultrasound
Breast X-ray exam(Mammography)
Breast ultrasound

PET-CT exam

Exercise guidance

Health lecture

Nutrition lecture

Nutrition guidance

Explanation of results and examination by doctor