---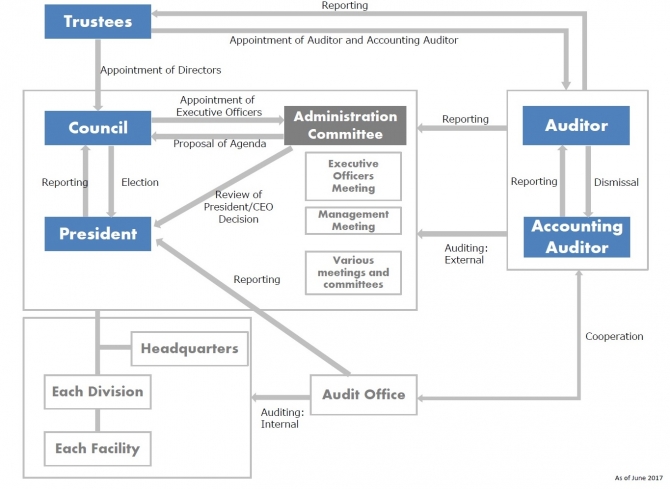 On April 1, 2017, "Law to amend part of Social Welfare Act" was enforced. The Seirei Social Welfare Community is aware of the social responsibility as one of the largest social welfare corporations, and has established and strengthened a governance structure as a non-profit organization to ensure high public benefit.

As a result of the amendment of the law, all of Trustees are composed of personnel outside of the corporation. The Trustees had been conventionally considered to be an advisory body of voluntary installation, in order to have a check function against the Council and the President. The Trustees is mandated as a voting body to resolve important matters of corporation, such as the appointment and dismissal of Directors, Auditors, President, Council and Accounting Auditors, remuneration of Officers, changes in the articles of incorporation, dissolution and so on.

The Seirei Welfare Community has introduced a corporate executive officer system since 2002 and has established a system that allows for quick business execution. From 2017, we have set up the Administration Committee consisting of representative executive officer, senior executive officers and managing executive officers to formulate general plans based on the basic policy of the Council, and more efficient execution of business. Along with this governance system, the Executive Officers Meeting confirms the progress of the work based on the basic policy decided by the Council and the Administration Committee. In addition, the Management Meeting and various meetings and committees play a role of assisting the Administration Committee and/or Executive Officers Meeting.

Regarding the audit system, the auditors attend important meetings such as the Council, and state their opinions as necessary. They audit the execution of duties through operational audits of each facility. The accounting auditor is conducted by an external audit corporation, and in addition to receiving the report of the audit results, we regularly exchange information. In our corporation, we have established the Audit Office that monitors the effectiveness of internal controls, reporting the results of internal audits to the President and exchanging information with auditors and others.